Defence Security Force Jobs 2022 Pak Army for Soldier GD & Clerk is a new job opportunity for young, talented, intellectual, and qualified Pakistani male citizens.
The Defense Security Force is part of the Pakistan Army, and each year it offers possibilities for male citizens of Pakistan/Azad Kashmir/Gilgit-Baltistan to join the Defence Security Force as Soldiers and serve the country as Army officers.
Defence Security Force Jobs 2022
Name of Posts:
Clerk
Soldier General Duty
How to Apply for Defence Security Force?
Applicants who wish to be recruited by the Defence Security Force should go to the DFS Recruitment Centers on the dates and times specified. Candidates must present original papers as well as a set of verified copies.
Multan, Lahore, Gujranwala, Rawalpindi, Dera Ismail Khan, Peshawar, Karachi, Hyderabad, Sukkur, Quetta, Gwadar, Gilgit, and Mirpur have recruiting centers.
The poster mentions the Recruitment & Selection Centers for people of the neighboring areas. On the dates specified, candidates may present at the designated centers for their respective districts.
Candidates have to pay Rs. 100/- registration fee at the time of Registration.
New Jobs 2022: Punjab University Jobs 2022 Latest Advertisement
Join Pak Army Jobs 2022
[tie_full_img]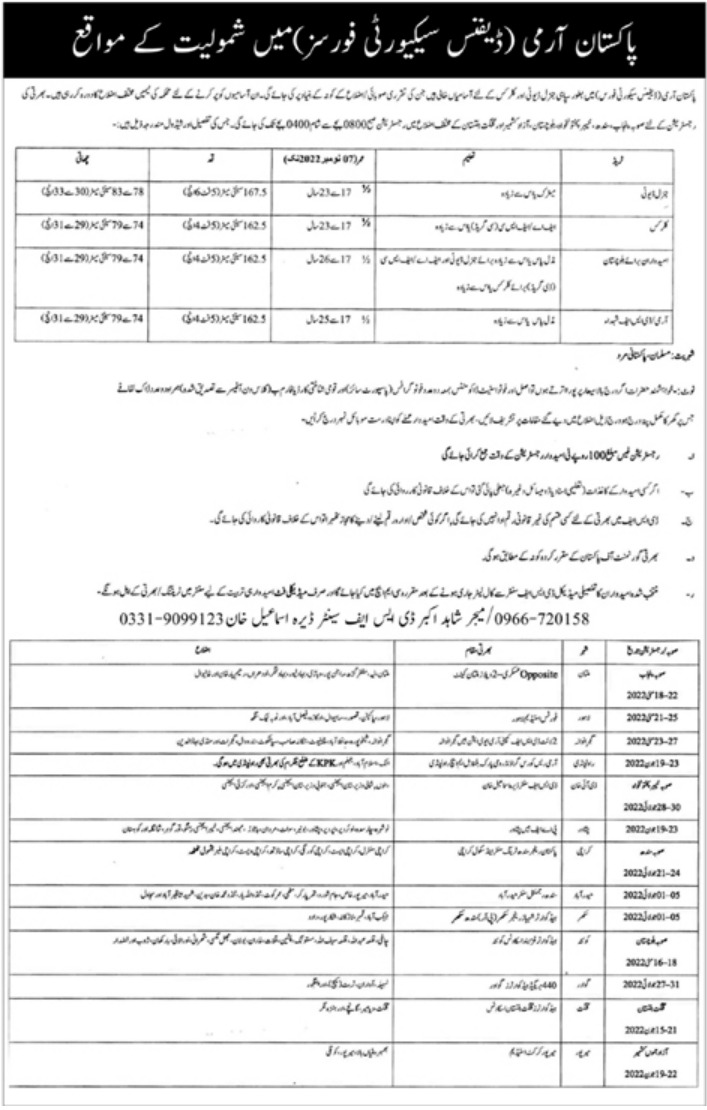 [/tie_full_img]